The Rich Plan Since 1946
Second Generation Family Owned & operated since 1965
A letter of Confidence from our Company Owner.
Rich Plan Home Food Service / A Susie Rich Food Company Inc Food products and Community benefits program is designed specifically to furnish your family with the most complete personalized home food service in America by providing quality foods, specialty products, valuable services , greater convenience , & security for you &  your family.
Statisticians tell us that for most Americans families, the single largest item in their budget is food. It is our objective to help you obtain as much value as possible from every dollar you must spend by helping you manage your food through better meal planning , packaging and portion control. This is a goal we have had for many years. We further recognize that price is a factor in every purchase, but we want you to know that quality & quality & personal service will always be given top priority at Rich Plan Home Food Service.
Nutritionists tell us that properly frozen & properly handled frozen foods best retain all their vitamins & minerals with in the product at The Rich Plan Home Food Service we strive to bring you a product without all the additives & preservatives found in products using other methods of preservation. We know this I a major concern of our customers.
Thanks
Greg Pomas
General Office
5101 North 12 th Ave
Pensacola, FL, 32504
Family Owned & Operated since 1965
Direct 850-477-3663 Ext 3668
Toll Free- 1-800-662-3663
Hands On
This photo from 1985 showed the owners Father working in the meat plant. This image highlighted the company's hands-on approach to production, which ensures that every product meets the company's highest standards for quality and freshness.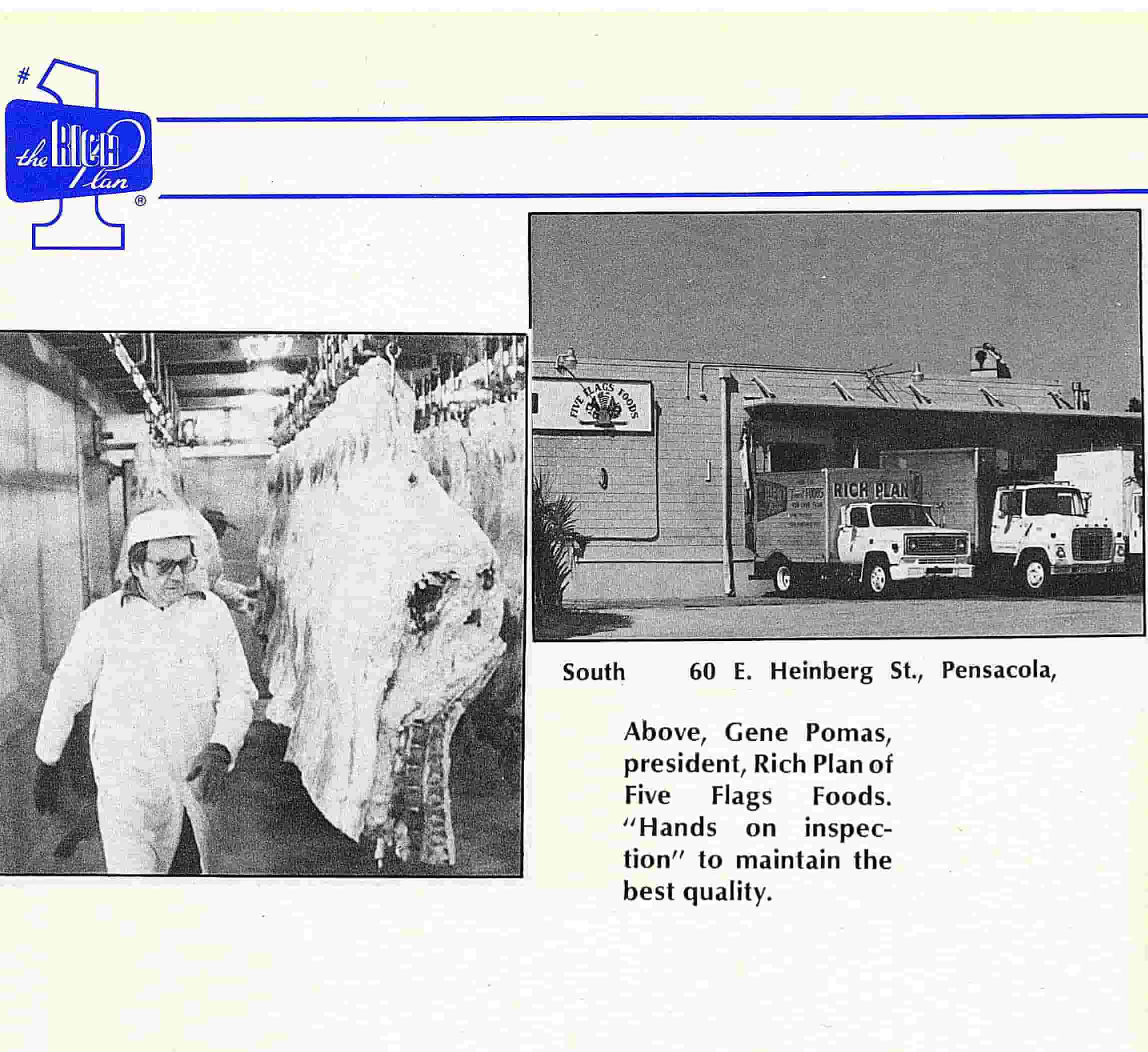 A Special Message
In 1985, Rich Plan Foods released a special message from the President of the Rich Plan Corp, who happened to be the founder's son-in-law. This message underscored the company's commitment to providing its customers with the best products and services possible.
Life Magazine – April 1953
A photo from Life Magazine in April of 1953 showcases the company's dedication to providing its customers with the best products and services.